The "Slow Season" Never Comes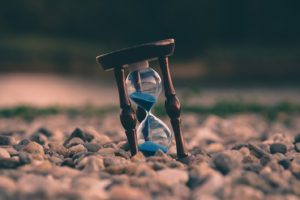 We engage with dealers all the time that are straight out, so busy that they can't imagine spending any time on forward thinking, strategy, or anything else besides that day's to- do list.
They say: "I know I need to find time to address these things, but now is not the time, I'm too busy. I'll do it in the slow season."
Sound familiar?
At the time, that might seem like the prudent answer, but is it?
When exactly is the slow season?
Is it in November? If the weather holds, November can be intense as customers push to get homes dried in before the bad weather comes. And as the latter stages of the month near, attention shifts to Thanksgiving.
December? Maybe, but your team has been holding off taking vacation days, and you may have a use it or lose it vacation day policy, so you are too short handed to pull people together to begin a strategy or planning project then. And then you have to get your physical inventory done before the end of the year, too.
January and February…. More vacation weeks, trade shows, seminars, employee evaluations, and other traditional events that pull you or your key people in different directions.
So, the slow season is March?
Maybe, but even if it is, trying to accomplish significant reviews of operations, succession, growth, are going to take more than 30 days, even in ideal conditions. Here's what Theodore Roosevelt had to say about accomplishing important things:
"Nothing in the world is worth having or worth doing unless it means effort, pain, difficulty… I have never in my life envied a human being who led an easy life. I have envied a great many people who led difficult lives and led them well."
When we see businesses that have their act together as relates to future thinking, strategy, and such, it comes down to a common mindset. That is having the disciplined determination to make planning a year- round effort. Yes, they actually work on these things even when it's busy. This discipline forces owners and managers to delegate more things, freeing up the time to do their real job…. Putting out fires all day long isn't the best use of your time. Train someone who you trust to make the same decisions you would, so you don't have to deal with those things…rise above it in order to work on the things that no one else on the team can. The mindset has to be that postponing these things is unacceptable, and yes, there might be some effort, pain and difficulty. But the price of not doing it is far greater.
This article was written by Tom Ford, President and Partner at Impact 180 Consulting Group & Lumber Contacts Inc. Feel free to contact Tom at, ford.tom@lumbercontacts.com – Phone 508-742-3404.
ABOUT THE AUTHOR
Tom is a "lifer" in the LBM business, with strong executive management skills, good product knowledge, and can relate well to people at all levels. He has been involved in retail, contractor sales, light manufacturing, distribution centers and supply chain planning, wholesaling, tool rental, installed sales services, and the acquisition of off-price and closeout merchandise. As President and CEO, he managed both public and privately held businesses, ranging from over 700 million annually, to supervising store operations of all sizes from less than 1.0 million to over 50.0 million within a chain context.